Realized the payment of cryptocurrency with ep-oriented Blucon Card
Blucon Card mounted with COS enables the use of points and integrated global financial network
Currently in discussion with Rogers Holdings for collaboration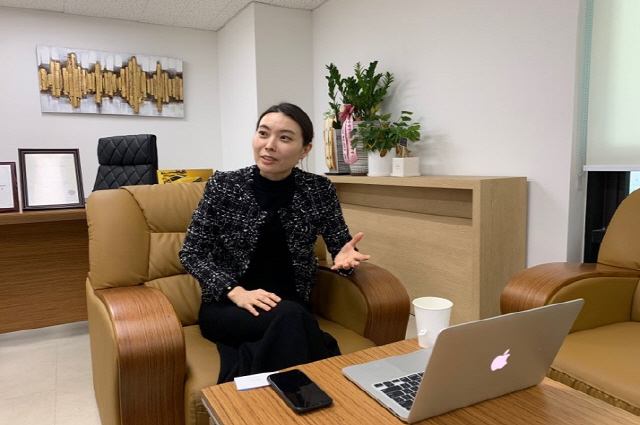 Sabrina Kim, the CEO of Blucon in interview / Photo=Reporter Min Seoyeon
"The crypto industry is exclusive. I thought that this industry had to be linked with the traditional financial market to grow the pie. As Blucon is the union of blue ocean and connect, Blucon will bridge the crypto market and the real world."
Sabrina Kim, the CEO of Blucon met with the reporter on 30th said "If the cryptocurrency is used in real life, the crypto market will explosively grow and Blucon wants to be the catalyst" while explaining the starting point of Blucon.
Blucon is a cryptocurrency payment platform that enables the payment of cryptocurrency in real life. Kim said, "If (Cryptocurrency) is not integrated with the existing financial ecosystem, it has to fight alone by itself. Blucon's mission is to create a new ecosystem where it wins as a mediator for both markets."
Blucon emphasizes the same payment system as the money in real life. When customers make payment with their cryptocurrency, such as Bitcoin, the affiliated stores receive profits in cash. Blucon's role is in the system behind the payment process.
First, when a customer makes a payment at an affiliate store with Blucon Card, the transaction is sent to the bank and BLU-eP (Blucon exo-Platform). BLU-eP is a short term of Blucon exo-Platform, in which the billing banks, exchanges, affiliated stores and card companies are connected. Through this, Blucon can verify the current status of the customer's cryptocurrency in real time. When the customer's current cryptocurrency hold is confirmed through eP, eP exchanges the cryptocurrency used in the payment into Blucon tokens. The exchanged Blucon tokens is then converted to the mileages that are used as cash in the bank and they are sent to the affiliated store where the payment was made. Finally, the affiliated store receives cash, not cryptocurrency.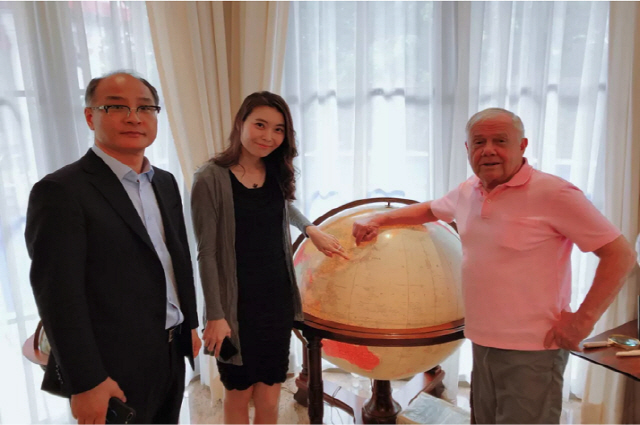 Sabrina Kim, invited to the home of Jim Rogers (far right) / Photo=Blucon
As a result, through Blucon Card centering on BLU-eP, the users and the affiliated stores use cryptocurrency, which is automatically exchanged to cash. The users can use cryptocurrency in payments in the same way that they use regular card.
Kim said, "There is a reserve fund at the banks that Blucon has paid in advance so this can be exchanged to the mileage that has no value volatility and used for payments. Thanks to eP and the mileage system, Blucon has been drawing a lot of attention from many companies. In recognition of its value, Blucon's special payment model won the Best New Blockchain Enterprise category at GFIS Award at the Hainan Fintech Summit.
The card business one of licensing businesses in Korea. In response to the questions from the reporter asking which license Blucon is getting from the Korean financial authorities and which companies Blucon is in collaboration with, Kim said, "Blucon's payment system does not require licensing as it is conducted through a partnership with credit card companies. We are currently preparing to sign an official contract with two traffic card companies and one bank in Korea. Initially, we plan to secure a certain number of users through a primarily recognized card company and then we will issue Blucon's card with our own specification through Korea's electronic financial service licensing."
There are three types of Blucon cards: Blucon Check Card offering cryptocurrency compatible card, Blucon Credit Card and Traffic Card. These cards are mounted with CARD OS (COS) so they use different kinds of cryptocurrencies, mileages and points and have card numbers, bar codes, QR codes and they are designed to use the integrated global financial network with Visa and Mastercard.
Kim also introduced her special relationship with Jim Rogers, the master of investments. She said, "I met Mr. Jim Rogers at Hainan Fintech Summit and he showed great interest when he gave the award to Blucon. Recently, I was invited to his home where we discussed cooperation. I asked him to be our advisor and he responded positively by reviewing our documents."