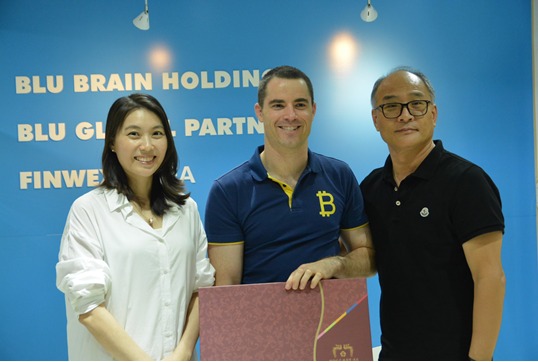 [Sisa Magazine=Reporter Kim Sungmin] Roger Ver, who signed a strategic partnership with Blucon and accepted to become an advisor at the Block Live Asia held in June in Singapore, visited the Blucon HQ in August.
He made the visit is to shape up a technical understanding of the Blucon EXO-Platform and the partnership with Bitcoin.com.
Roger revealed in an interview that the "methodology of using cryptocurrency in real life" is the most important and necessary change in the blockchain industry at present. The purpose of his visit was to deepen the technical understanding of Blucon's EXO Platform and to take it a step further through definitized partnerships. He also talked about the strategy of simultaneously applying EXO-platform to the recently launched Bitcoin.com's own exchange and its wallet, which already has millions of users, in depth.
Sabrina Kim, the CEO of Blucon, plans to invite the masters of blockchain, including Roger Ver, to the IFIC Korea 2019 (Blucon Summit), which will be held at Grand Hilton Hotel on October 14th, and share Blucon's EXO-Platform to the world for the first time while sharing opinions with the blockchain masters. In response, Ver made a request to actively use Bitcoin cash, Bitcoin.com and as well as himself for the event and even participated in the filming of the invitation video for event promotion.
On the video, Ver said, "Blucon will provide Bitcoin cash, cryptocurrency and a new payment method to many people in the world and I hope to see you at the event where EXO-Platform will be revealed for the first time in the world."
(Source : http://www.sisamagazine.co.kr/news/articleView.html?idxno=229131#09ne)