Editor's Note: Blockchain technology will come one step closer to reality from the bottom of our life.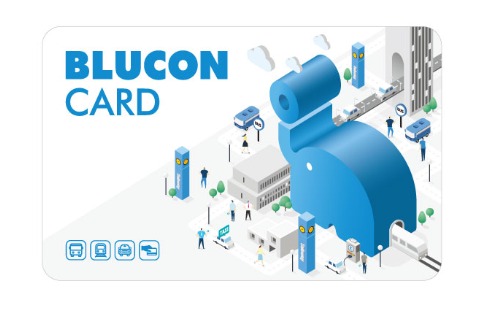 Blu Global Partners official announced "Blu Global Partners, which is developing the payment platform using cryptocurrencies, has also launched BLUCON Transportation Card developed by their own brand." For reference, SUICA Card company who is the largest transportation card brand in Japan, recently went public with the plan that apply cryptocurrencies to the SUICA card, and it has been getting a lot of international attention.
Blu Global Partners is currently developing the EXO-Platform, which is the core of BLUCON project. The EXO-Platform relays crypto exchanges between cryptocurrencies and legal currencies in real time by linking exchanges and financial institutions (Banks and Card Companies). Cryptocurrencies can be easily converted as much as needed and used in real life.
This BLUCON Transportation Card that was applied the real card in the transportation field for the purpose of applying and testing the semi EXO-Platform ahead of the completion of the EXO-Platform which is applied to the whole finance.
BLUCON is being developed to be able to charge the transportation card by selecting between the cryptocurrencies and legal currencies through the exchange wallet after listing on the exchange on in May. Blu Global Partners is in the process of applying cryptocurrency service in May, and they are expecting to be the first in the world to open the era of rechargeable transportation card based on cryptocurrencies.
However, for now, it can be charged using cash or various points like a general transportation card. And it can be used everywhere in public transportation infrastructures including transportation card company infrastructures and convenience stores.
The official said "CTO, Chang-Keun Kwak is playing a major role in enabling Blu Global Partners to provide such services. Mr. Kwak has over 15 years experience in payments and transportation cards industry. And he has experience of MOA on the proposal of Global One Card, MOA of Weihai City Transportation Card in China, and card supply to MUI which is composed of Indonesian Muslim members. In addition, when Mr. Kwak and others of Blu Global Partners were having a meeting with Jim Rogers, he attracted a lot of his attention to the project through technical explanations."
Also, according to the official, BLUCON Transportation Card was designed and developed with card specs for the use as a Transportation Card in various countries like Southeast Asia including Vietnam, Singapore and Indonesia, as well as Korea. They are now ready to be applied and released immediately when discussions with transportation card companies in Singapore are completed. And this plan will be gradually escalated all across Asia.
"BLUCON Transportation Card to be released this time will be available only in Korea, but after the listing on several overseas exchanges, it will be linked with overseas Transportation Cards such as Singapore and so on, and if the cryptocurrency charge is applied, then blockchain technology will come one step closer to reality from the bottom of our life," the official added.